Offshore wind farms in the United States | Block Island leads the way
---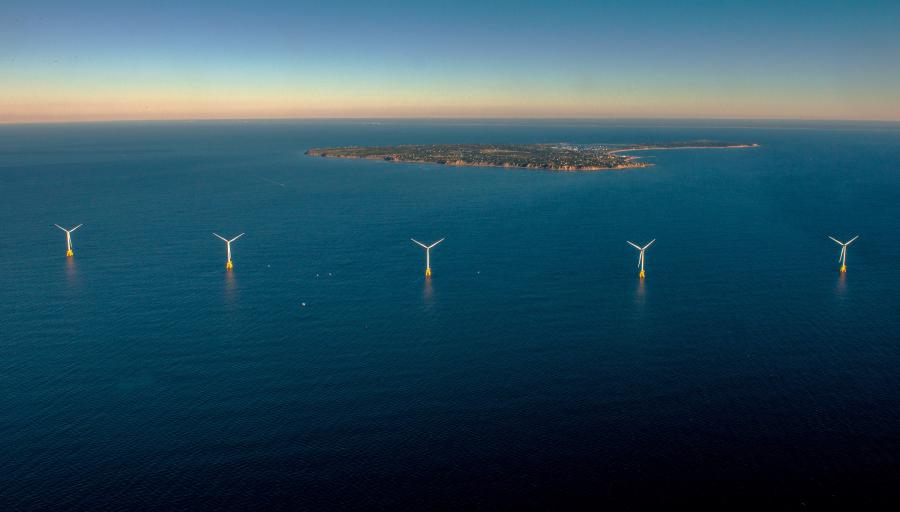 ---
Block Island Wind Farm - The First of Many Offshore Wind Farms in the United States
The United States' 1st operational offshore wind farm is the Block Island Wind Farm, developed by the company Deepwater Wind (acquired by Ørsted in 2018). The 30 MW Block Island Wind Farm is 4 miles off the coast of Block Island, Rhode Island; and began operating in 2016. [CLICK AND READ>>> Please read America's First Offshore Wind Energy Makes Landfall in Rhode Island from Inside Climate News].
Ørsted is the current owner of Block Island Wind Farm and is the largest energy company in Denmark. Ørsted has built the most offshore wind farms of any company globally. Ørsted has built both the Anholt Offshore Wind Farm in Denmark and the London Array Offshore Wind Farm, both of which are featured in articles in Green City Times.
Block Island is now powered entirely by wind (instead of polluting diesel generators, as it was previously). Based on the success of the Block Island Wind Farm, there are about 30 GW of offshore wind projects in various stages of development off the East Coast of the United States. A few of those developments should be completed by 2024-2026 (as detailed below).
There are other proposed (smaller scale, but as of yet not in development) offshore wind projects in the U.S., such as proposed offshore wind projects in the Great Lakes (as described in this article by Inside Climate News).
Many additional GW of new US offshore wind farms have been planned under the Biden administration (although many of these developments won't officially get going until the second half of this decade).
---
U.S. Offshore Wind Farms - Proposed and in Development
BELOW >>>
Map of Proposed Offshore Wind Farms, including several that are currently being developed - United States East Coast  | [FROM --  forbes.com/offshore-wind-companies-are-racing-to-develop-americas-east-coast]  >>>
---
---
Among the new developments/ proposed developments for offshore wind farms off the US east coast is the 1.1 GW Ocean Wind offshore wind farm off the coast of New Jersey (also being developed by Ørsted US Offshore Wind) - with a goal of becoming fully operational by 2026.
Large US offshore wind farm projects also include (this is a partial list, although these projects have made substantial development):
Read a more detailed description of the Vineyard offshore wind farm, among other large-scale offshore wind projects off the East Coast, from The Boston Globe.
Other major offshore wind farm projects off the East Coast of the U.S. include more projects off New York, New Jersey, Rhode Island, and Massachusetts; as well as Maryland, Connecticut, Delaware, Virginia, and other states on the East Coast.
All of these projects each create thousands of jobs for the local economies, many of which are permanent; while also creating highly efficient, clean sources of energy.
---
"According to the U.S. Department of Energy, more than 25 offshore wind projects with a generating capacity of 24 gigawatts are now being planned [now, with the Biden administration's offshore wind expansion plans, many more GW of offshore wind are planned, although the aforementioned developments have seen the most immediate progress], mainly off the U.S. Northeast and mid-Atlantic coasts.

And although some of these projects may not be built, and only one commercial offshore wind farm has actually been constructed —the tiny, five-turbine Block Island Wind project off Rhode Island — analysts say that U.S. offshore wind is expected to enjoy significant growth in the coming decade."   [quote from - e360.yale.edu/after-an-uncertain-start-u-s-offshore-wind-is-powering-up]
---
Block Island vs. European Offshore Wind Farms
The Block Island Offshore Wind Farm is just 30 MW, with a total of five 6 MW turbines. This offshore wind farm serves to provide power to the relatively tiny population (>2000 p.) of the Block Island community and Block Island resorts, part of Rhode Island. All combined, the Block Island Wind Farm can potentially provide power for up to 17,000 homes.
In comparison, the 630 MW London Array offshore wind farm powers half a million UK homes every year. (see: London Array - Paving the Way for Efficient Wind Farms). The London Array has 175 turbines, with each wind turbine at a little more than 1/2 of the MW (3.6 MW turbines compared to 6 MW turbines) of those on the Block Island Wind Farm.
The United States has a way to go to catch up with Northern Europe as far as developing offshore wind farms; and as of yet, the U.S. has only developed a tiny fraction of this renewable energy source's potential.
Scotland recently powered most of its country with wind energy. Scotland also boasts the Western world's first operational floating offshore wind turbines, pioneering floating offshore wind turbine projects. Denmark is also one of a few countries that have used offshore wind energy (along with onshore) as their main power source, albeit for short periods of time (see: leading countries in wind energy).
GE recently unveiled a 12 MW offshore wind turbine - the Haliade-X - which has been developed and made commercial for use in the above-mentioned Ocean Wind Farm, the Vineyard Wind project (as described in this article by The Boston Globe), and other U.S. and European offshore wind farms.
---
For more on the latest cutting-edge developments in wind energy, please see:
Breakthroughs in Wind Turbine Technology
---
***UPDATE as of the end of 2018:
"After buying the [Block Island] wind farm in 2018, the new Danish owners - Ørsted —[one of the] largest owners and developers of wind farms in the world — took over ownership from Deepwater Wind.

Deepwater Wind still operates the wind farm, and released this statement - Ørsted plans to grow Deepwater Wind's presence in the coming years, making Providence and Boston the two major [new] hubs of the company's U.S. offshore wind."    [FROM: blockislandtimes.com/article/bi-wind-farm-get-new-owner]
---
Please also see: 
The London Array - paving the way for efficient offshore wind farms
and:
The Anholt Offshore Wind Farm - Denmark's most powerful source of renewable energy
---
---