GREEN Transit in Vancouver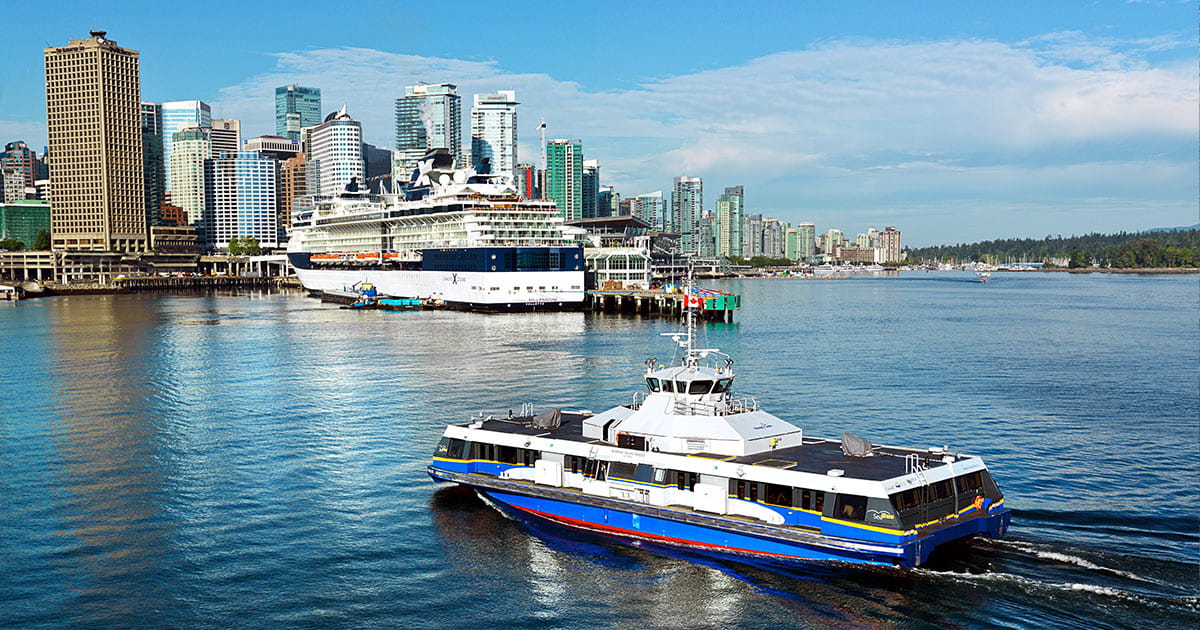 Sustainable public transit options in Vancouver feature: Metro Vancouver's TransLink buses (TransLink has added electric and hybrid buses to its bus fleet), trolleybuses, rapid transit rail, commuter rail lines (SkyTrain and West Coast Express), and SeaBus. 
Vancouver has the lowest greenhouse gas emissions (GHGs), per capita. of any major city in North America.
Vancouver has managed to decrease its GHGs even with a substantial increase in population and jobs. The Vancouver City Council has a Climate Emergency Action Plan, which aims for a 50% GHG reduction by 50% by 2030.
---
---
---
Vancouver encourages alternative clean transportation modes
Mass public transit options in Vancouver include TransLink's extensive public bus systems, trolleybuses, TransLink's autonomous rapid transit rail (SkyTrain), commuter rail lines (SkyTrain and West Coast Express); and SeaBus. All of Vancouver's mass transit options utilize some of the latest cutting-edge clean energy technologies.
TransLink has added electric and hybrid buses to its bus fleet, and plans further electrification of Vancouver's fleet of buses. TransLink has a goal of reducing its GHG emissions from its entire mass transit fleet by 80% by 2050, with a more immediate goal of 45% GHG reduction by 2030.
Adding to the city's clean transportation push, Vancouver requires that all new single-family residences built in the city have electric car plug-ins. This legislative mandate is in addition to other EV charging policy mandates in Vancouver; such as mandating (less stringent) EV charge station requirements for multi-family and commercial buildings - focusing on EV charging technologies in order to encourage zero-emission vehicles.
Alternative forms of sustainable transit are ubiquitous in Vancouver; including a few novel forms of sustainable mass transit, and accommodations/ incentives for the population to engage in cycling, and just plain walking. Pedestrians are a priority in Vancouver, as walking is enhanced by citywide programs that maintain the city's natural beauty.
Vancouver has developed land-use patterns that encourage walking and biking; by conserving green spaces within the city, creating high-density city centers, and even widening sidewalks. The city also features over 250 miles of bike trails.
The goal in Vancouver is to have the majority of trips within the city by public transit, walking, and cycling by 2040. To do this, the city will continue to make investments in various public transit modes available citywide; as well as creating large, protected bike lanes, better side-street lighting, and improved crosswalks.
Vancouver has already implemented many of these citywide transit and mobility improvement and safety measures. Vancouver has simultaneously increased the proliferation of educational materials about why using alternative, sustainable modes of transit are important for the environment; and about how to use these modes of transit safely and efficiently.
In Vancouver, around 10% of work commutes are done on bicycles, which is more than in other North American cities of similar size. Even more trips are taken by foot within city limits. Currently, almost half of the commutes within Vancouver are done by bicycle, walking, or public transit. Vancouver is the only major North American city without a freeway running through it.
In the late 1960s, residents first rejected a plan that would separate the city from the iconic waterfront with a freeway, and no such freeway plan has passed in Vancouver since then. This transit dilemma in Vancouver led to the development of the SkyTrain (one of the world's longest fully automated metropolitan train systems), the West Coast Express, SeaBus, and the development of city trolleybuses and streetcars.
SkyTrain has lines connecting downtown Vancouver with other major nearby Canadian cities. SkyTrain lines run to the Waterfront, and connect to Vancouver International Airport. Vancouver also has the West Coast Express, a commuter rail service, for travel within the city.
In addition to the SkyTrain & West Coast Express, Vancouver offers the SeaBus. There are 4 double-decker ferries in the SeaBus fleet, each holding up to 400 passengers. Each ferry does 2-4 trips an hour and runs over 100 hours per week. The trips run under 15 minutes most of the time, and connect Waterfront Station (SkyTrain terminals) and downtown Vancouver with North Vancouver's markets and Transit Exchange.
---
---
Please also see:
and-
---
---