Bright GREEN City in Texas
---
---
---
---
Eco-friendly Capital
Austin is widely recognized as a top eco-friendly city, especially in the United States. Austin, known for its environmental justice movements, is emerging as a leader in renewable energy and community solar, and in LEED building technologies.
In Austin, through non-profit organizations, sustainability groups, and local government; there are continuous efforts in environmental justice. 
Austin's local sustainability organizations also work to improve the city's carbon footprint and make strides toward a renewable energy-based local economy. [see below (at the bottom of this article) for a few examples of Austin's sustainability organizations]
Austin's sustainability measures are extensive; which is why the city has consistently been recognized as a leading U.S. green city in national sustainability studies.
Austin is an attractive city from an economic and geographic perspective. This is true for hard-working professionals in a variety of fields, from education to agriculture.
Additionally, tech and artistically-focused, sustainability-focused people, and entrepreneurs do well in the city. Austin attracts a diverse population of job-seekers and migrants, attracting people to the city due to its unique physical setting.
---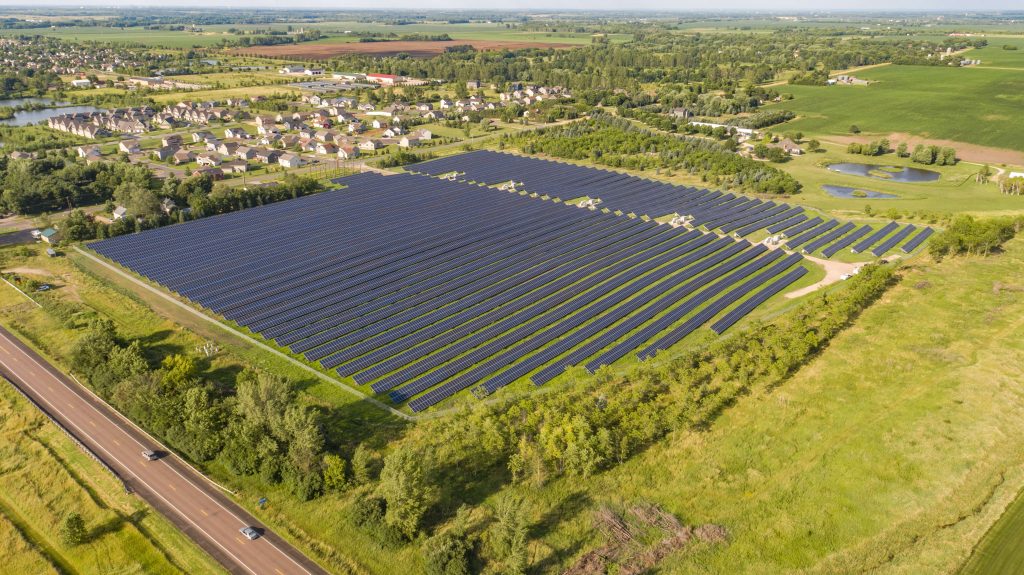 Austin Energy's Community Solar Program provides access to locally generated solar energy for customers.
Austin Energy provides solar power from local community solar photovoltaic (PV) projects.
Community solar projects are arrays of solar PV invested in by members of a local community from which energy and/ or financial benefits are derived. 
Austin Energy will even develop new community solar projects if needed (Austin Energy, 2020). Community solar is one example of how Austin is emerging as a leader among American cities, and worldwide, in renewable energy.
A major component of Austin's investment in renewable energy projects is community solar investments. These investments are made by Austin's residents, commercial building owners, and business building owners.
Austinites who want solar, or simply see it as a profitable investment, can freely invest in community solar projects. A group of potential renewable energy investors is able to invest in a community pool of solar energy as seen in Austin Energy's community solar programs (Austin Energy, 2020).
Available energy from solar in Austin is abundant. On Austin's municipal energy grid, in addition to solar, there are other renewable energy sources such as wind, hydro, and biomass; as well as a substantial share of fossil fuel and nuclear energy.
With solar, there is direct community involvement. An increasing quantity of Austin's residences and buildings have rooftop solar panels or are invested in community solar projects.
There are some communities in Austin that can optimally put solar panels on their rooftops because they have access to abundant solar resources - for others, there is community solar.
In communities in Austin (and throughout Texas and elsewhere), many community solar investors don't have access to optimal solar resources (for example, a property within a shaded area).
Often, community solar investors can't install solar PV panels on their property (such as in the case of a rental property or HOA that doesn't allow solar PV).
Some community solar investors simply like the investment opportunity these renewable energy projects provide.
On average, there are over 200 sunny days per year in Austin (along with over 100 partly cloudy days with intermittent sun).
Austin not only has the right weather for community solar but the right political climate as well.
"As cities are leading on climate change, Austin is focused on inclusive innovation around sustainability. We are realizing a greener future, and the Austin Energy Community Solar initiative shows the world how everyone in your community can support and benefit from renewable energy." 
[quote by  -  Austin Mayor Steve Adler]
---
UTAEI;

Austin

as a World-leading Sustainable City    
Austin's growing prominence in addressing the climate change crisis is hard to overlook. Austin is quickly becoming a leading city in the United States among many American cities transitioning to renewable energy sources.
The University of Texas at Austin (utexas.edu) is a global leader in the research and development (R&D) of renewable energy and sustainability technologies.
UT Austin features sustainability technology R&D facilities that are recognized globally as leaders in the field.
R&D in sustainability and clean energy technology is found prominently at The University of Texas at Austin Energy Institute (UTAEI). UTAEI came out with a major study, demonstrating that solar and wind, as well as natural gas, are the least expensive forms of energy available (UT News).
---
Austin

- A Bright Example of a Sustainable City
Austin has gained a reputation as a sustainable, progressive, and innovative city.
The city's green reputation has spread internationally as well as in the states. The city is well-known for its actively involved citizenry in many sustainability and justice issues.
This is evident by Austinites' active participation in sustainability and social/ environmental justice movements [see below for a few examples of Austin's sustainability organizations].
The roles played by the active citizenry in sustainability movements are evident in Austin. Active citizenry is fundamental to the sustainable success, progress, and growth of a city. The city is certainly blessed to have such a well-informed citizenry (evolveaustin.org).
---
Here is a brief snippet from Architectural Digest on the reasons for ranking Austin as the #1 most sustainable city in the United States -
Waterfront boardwalk near downtown Austin

"While five out of ten of the greenest [U.S.] cities are located in the Northeast, the number-one spot went to the hipster haven of Austin, Texas, and its surrounding area of Round Rock.

With a population of [over 2 million], Austin scored the top slot by a landslide thanks to its 5 LEED buildings per every 1000 residents.

Its title can also be attributed to the .097 miles of bike lanes per every 10,000 residents, demonstrating that commuters are ditching their cars in favor of pedaling their way to work and thereby shrinking their carbon footprint.

There's also .16 farmer's markets for every 10,000 residents, .94 electric car plug-ins for every 10,000 people, and 15% of Austin's land area is park, green spaces, or forest..." 
[QUOTE FROM  -  architecturaldigest.com/greenest-cities-in-america-are-models-for-cleaner-future]
---
---
Green Spaces in

Austin
10% of Austin's land is designated for parks, urban forestry, and other open, green spaces. The City of Austin has not only dedicated much of its land to parks; Austin also has plentiful green areas around freshwater lakes, rivers, and springs.
Most prominently, these green areas include Lady Bird Lake, Lake Travis, Lake Austin, Zilker Park, and Barton Springs.
'360 Bridge', Lake Austin

"[Austin] - green space per capita: 2,978 sq. ft...

Wildflower centers, hike and bike trails, and Lake Austin beach entrances make up 20,000 acres of green space. The Texas town touts the health benefits that public open space offers, particularly in the development of children, higher property values, and decreased crime rates.

Events like Zilker Botanical Garden's Monarch Appreciation Day, which promotes further pollination for an even greener ecosystem, draw thousands of visitors to Austin annually." 
[QUOTE FROM  -  stacker.com/texas/texas-has-4-50-cities-most-green-space-capita]
---
Hydroelectricity in Austin
Austin draws about 5% of the city's energy needs from hydroelectric projects (dams, tidal barrages) in the lakes of Austin.
Additionally, Austin is deploying a larger number of hydroelectric turbines to generate energy, including tidal barrages in rivers to harness the energy of tides and currents.
There are three lakes formed by dammed portions of the Lower Colorado River in the Austin area - Lady Bird Lake, Lake Austin, and Lake Travis.
All three lakes are used for recreational camping, hiking, boating, and fishing; but a couple of the lakes also double as hydroelectric reservoirs.
Lady Bird Lake in downtown Austin does not allow motorized boats and is not currently designated for any hydroelectric generation.
However, northwest of downtown is Lake Travis - Austin's largest lake. Lake Travis is designated as a lake that has sections that can be used as hydroelectric reservoirs.
Between Lake Travis and downtown Austin is Lake Austin. Lake Austin is created by dams along the Lower Colorado River.
Lake Austin is used as a reservoir for hydroelectric energy generation through the dams with its tributaries and rivers.
---
Austinites and The Great Outdoors
It is worth noting that a city's population relative to the quantity of nature surrounding the population can greatly affect urban social structures.
Natural settings in an urban environment influence the way people interact with each other and form priorities for social justice and environmental justice issues. 

In such a rapid urban growth scenario as Austin, it is important that the definition of a livable city is clearly outlined and it must stress having maximum open green spaces.
Austin features over 200 parks and more than 50 miles of hiking trails (and many of the trails are also biking trails).
The connection of Austinites to their city's natural landscape is immensely strong, and this creates a unique sense of place. This connection to the environment is apparent throughout the historical evolution of the city and is made manifest through a variety of avenues like environmental protection campaigns.
Examples of such environmental campaigns, like the Texas Campaign for the Environment, are initiated by non-profit sustainability advocacy groups, as well as municipal agencies and institutions.
The purpose of these environmental justice campaigns is to raise awareness about sustainability concerns. For instance; the struggle to protect Austin's green spaces and local waterways (detailed in the section on Save Our Springs below).
These sustainability campaigns (see below, at the bottom of this article for a few prominent sustainability campaigns in Austin) also allow the citizens to band together for the betterment of the city and environment.
---
LEED and Renewable Energy in Austin
Most of the new homes and businesses developed in Austin are built to the latest energy efficiency standards. Many new buildings in Austin are built to LEED green building standards (leedatx.com).
In Austin, some new construction is even carbon neutral; with on-site solar energy generation. Austin is on track to get at least 35% of its energy citywide from renewable energy sources, while all of Austin's public buildings are already powered by renewable energy.
Wind farms in and near Austin supply a substantial amount of energy to Austin's energy grid; contributing over 15% of the city's energy. 
Additionally, the city deploys anaerobic digesters at some of the city's farms to harness the energy of agricultural and animal waste produced at the farms.
Anaerobic digesters (AD plants) turn waste into energy that can be used to power the farm or is distributed to the grid for the city's energy needs. Food waste, and even household waste, is diverted from local landfills and used for the same purpose at local anaerobic digesters in Austin. AD plants generate biogas...converting waste into a useful form of energy.
All renewable energy in Austin is backed up by natural gas generators, and/ or energy storage in utility-scale battery storage facilities. Additionally, large quantities of energy storage are in Austin's hydroelectric reservoirs.
Overall, the energy of Austin is green and clean; and accomplishes the city's goal of lowering the city's carbon footprint.
The city aims for a public transportation fleet that has a low carbon footprint. Over 1/2 of city buses in Austin currently run on alternative, cleaner fuels like compressed natural gas or biodiesel. Ambulances in Austin have solar panels on the roofs of their vehicles to power EMTs' medical equipment.
---
---
*** (demographic info on what makes Austin uniquely sustainable)
Austin, Texas - A Shining Example of a Sustainable City
Austin is the capital city of Texas, as well as Travis County's seat of government. The city is a thriving and populous city with a population of almost 1,000,000 people and a population density of just over 3000 people per square mile. These population numbers can be largely attributed to the city's never-ending expansion and migration to the city.
The city's demographic story is greatly influenced by the incredibly sustained job opportunities that it offers. As the number of people tempted to find job opportunities in the city rises, the population of the city increases. This further intensifies the population density of Austin.
Some facts about Austin's demographics will offer a clearer picture of the demographic dynamics of the city:
In the previous decade, the population in Austin increased by roughly 20%.
The population of Austin is nearly 1/2 college graduates, and 88% are people with an HS degree or higher.
The number of Latinos in Austin is relatively high, at over 30% of the population.
The number of people living in poverty in Austin is under 20%, but above 15% (ex. of the definition of living in poverty is a family of 4 living on under $25,000 combined income annually per the US Census Bureau).
In the American South, Austin is one of the fastest-growing cities in the United States. After Phoenix, it is the 2nd most populous state capital, where a 40% rise in population has been observed since 2000. Moreover, Austin is the 11th most populous city in the US, and Texas's 4th most populous city.
Among the roughly 1 million citizens of Austin is a significant population of migrants and job seekers. Austin is primarily focused on the technology sector of its economy. Additionally, Austin is home to the main campus of the University of Texas, where over 40,000 students are enrolled. Austin has been ranked the #1 city to start a small business by Fortune Magazine.
Austin's music and entertainment industries are key economically productive sectors in the city. The focus on the tech, music, and arts industries in Austin are further enhanced by several cultural events. The most famous such event is the annual South by Southwest (SXSW) festival. SXSW is Austin's premier technology conference and music & film event. 
The latest trends observed in Austin's population offer ways through which the city's sustainability prospects can be assessed. The most significant demographic trend is that Austin continues to be a growing, diverse city, where the majority-minority division doesn't exist anymore. There isn't a single demographic group that can claim a majority in this city, which is a welcome societal change.
Another trend in the Austin population is that there is a decline in families with children, which is the result of the city's rapid urbanization. This trend offers an insight into the rapidly changing demographic dynamics in Austin.
The number of young, highly educated, and skilled people moving to Austin to join the workforce is increasing. Newcomers tend to choose to live in the urban center of the city, while a majority of families opt to move to nearby suburban greenbelts.
These migratory trends in Austin change the median age and the number of members per household within the city. This affects the public services sector including schooling (e.g. at UT Austin), mass transit, and other city services – services that are overwhelmingly used by young adults.
It's important that Austin adopts new initiatives that encourage a focus on improving sectors like transportation. This is in order to address population-oriented issues such as traffic congestion, housing, and real estate sector prices. The most pressing ecological problem that must be addressed with the rapid growth of the city, is environmental pollution.
Also, Austin should adopt a newer approach to address these issues in order to make the city inviting, healthy, and investment-worthy for families with children (austinindicators.org).
Hardworking, talented, skilled, and innovative individuals from across the globe are instantly attracted to the city. The investment made by its citizens in the urban landscape has made this city's quality of life its main engine of economic development. On the other hand, its diverse demographic structure tends to complement and support the city's quality of life.
The population of Austin has been increasing steadily since the beginning of the 21st century; hence, it is essential for the city administration to cautiously devise strategies for the future of the city with attention to demographic trends in Austin such as the growing migrant population and the diverse socio-cultural foci of city residents.
It is necessary that the city formulates policies that ensure sustainable development of the city and help in improving the implementation of, and the efficiency of, eco-friendly practices, among other top sustainability concerns for the city, like social justice issues.
Many Austinites worry that the city's environment will be destroyed because of continuous population growth.  Ultimately, the city's quality of life will be determined primarily by its environment instead of its size or economy.
Proponents of quality of life, such as Austin community members in environmental justice and social justice non-profits, are determined to preserve environmental and socially altruistic aspects of the city that define the identity of Austin.
The city of Austin has historically dedicated itself to becoming a sustainable city, and made efforts at social and economic sustainability.
---
---
Sustainability Initiatives in Austin
The city of Austin is home to many non-profit charities, and sustainability organizations. We'll highlight a few of them:  the Smart Growth Initiative (SGI) in Austin, People Organized in Defense of Earth and her Resources (PODER), Capital Area Metropolitan Planning Org. (campotexas.org), and Save Our Springs Alliance (S.O.S - sosalliance.org).
Smart Growth Initiative in Austin
The Smart Growth Initiative in Austin has become an important example of both the pros and the potential cons of large-scale urban sustainability efforts. This initiative was directed towards addressing the problem of food and clean water deserts within east Austin.
The multi-faceted basis of the SGI are the pillars of economic success, social parity, and conservation. Smart Growth zones include a Drinking Water Protection Zone, Desired Development Zone, and Urban Desired Development Zone, in Austin's designated watershed regulation areas.
SGI was launched to limit the developments in West Austin, to ensure the preservation of its natural areas, and to stimulate sustainable growth and development of the urban eastern Austin area. West Austin is in close proximity to the city's current urban center - East Austin.
Despite being constructed with a positive outcomes as the ultimate goal, the net result of this initiative was negative social justice consequences (Green Policy 360). However, SGI also produced positive environmental, clean water, and sustainable development results.
Success and Failures of SGI
The Smart Growth Initiative was originally devised to stimulate urban renewal, economic productivity, and environmental protections. In Austin however, eventually, it turned out that the plan ended up destabilizing local residents and underpinning their racial attitudes.
The sustainable redevelopment and rezoning of east Austin under the SGI resulted in the subsequent influx of upper-income, highly educated, and young white shifters. This demographic moved to this area in search of affordable homes, as well as to live in an area that has some identity and character of its own.
Also, part of SGI's priorities was gaining easy access to the downtown, which promised to improve residents' quality of life. SGI sought to expand employment opportunities and amenities for Austin's affluent community; but at the same time, these developments affect the cost of living in that area tremendously.
Therefore, gentrification quickly became an important sustainability and social justice issue in Austin. This is a central consideration when developing urban sustainability strategies and policies in Austin, and became the focal point of social and environmental justice groups such as PODER.
People Organized in Defense of Earth and Her Resources (PODER)
In the sustainability agenda for Austin, environmental issues, and economic growth and development, are sometimes prioritized over the issue of social equality, which is why addressing gentrification often takes a backseat. People Organized in Defense of Earth and her Resources (PODER) is an interracial organization working in Austin to protect lower socioeconomic communities.
One of the most noteworthy and widely acknowledged achievements of PODER is their work against the development of locally unwanted land uses, which usually occur in the form of landfills, incinerators, and waste treatment plants near low-income neighborhoods, and has become a key focus in the development of East Austin.
PODER's work for environmental justice is indeed quite successful and it is due to their genuine, consistent efforts and effective use of awareness programs to promote public engagement and generate citywide concern among the masses.
PODER has worked vigorously against the gentrification of East Austin and has helped in the promotion of environmental justice issues, as these have become a lot more critical to urban sustainability.
PODER Speaks for the Environment and the People
In the gentrification issue, the argument endorsed by PODER has been that the city has been focused on the support of environmental principles, which is positive, but while following these principles, the priorities and sustainability concerns of communities of color have been unjustly diminished, which indeed is not justified.
The influence and importance of this non-profit organization, PODER, in voicing the concerns of the low-income and minority groups of the community cannot be overlooked. The advocacy of PODER is one of the main reasons that the voices of low socio-economic, predominantly minority, communities have been addressed by local policymakers in Austin.
PODER has also helped in fostering the belief that an inclusive approach is important for urban sustainability; and that social and equitable elements of environmental justice must be taken into consideration when the Austin City Council develops public policy.
All of these myriad elements affect the city of Austin and, if addressed constructively, will help in positive sustainable development for the city.
Urban Sustainability Issues in Austin
There are still many sustainability issues that have to be resolved in Austin, which do relate to the environment tangentially but relate to urban sustainability directly.
One of the most urgent issues in Austin is allowing the voices of Austin's diverse city population to be heard, particularly lower socio-economic, predominantly minority communities, and to be reflected in decisions made by City Council, and city planners.
Sustainability movements in Austin can be at least partially understood to be the efforts to include a wider swath of Austin's diverse population in the decision-making processes vis-à-vis public policy in the city, particularly with regard to city planning.
In Austin, as with any growing American city, environmental and social justice, and sustainable equities, also refer to the impacts of over-industrialization, distributional injustice with respect to environmental amenities, and vehicle use/ traffic patterns, on communities in the city.
Traffic congestion is a big issue in Austin. Austin residents experience traffic congestion on a regular basis, which is indicative of the way population growth has surpassed the limits of the available infrastructure in the city, resulting in undesirable, yet unavoidable, environmental impacts.
In a 2011 study conducted by Texas A&M, Austin ranked number three in the US as the most traffic-congested city. Forbes magazine has consistently ranked Austin as the fastest-growing city in the U.S., with the most employment opportunities available in U.S. cities (according to Forbes).
This substantially explains why car-centric, freeway, and highway infrastructure is believed to be insufficient for Austin's population, as well as environmentally concerning.
CAMPO's Sustainability Advocacy
Organizations like the Capital Area Metropolitan Planning Org. (campotexas.org) are striving to address traffic issues in Austin. Examples of CAMPO's sustainability advocacy include creating awareness in the population aimed at reducing the demand for transportation via automobiles. CAMPO also works to increase accessibility to trails, sidewalks, and bike lanes, and increase the use of public transit systems.
In addition, CAMPO is actively spearheading advocacy actions aimed at infrastructure improvements, like highway infrastructure capacity to prevent traffic blockage, such as express transit lanes for carpooling.
Urban sprawl and traffic congestion both tend to be incredibly degrading for the environment, and these affect the livability aspects of a city. The prevalence of these issues stands in contrast to Austin's claim to the title of a top eco-friendly city.
The efforts of Austin to improve the sustainability of the city are substantially reflected in the need to decrease car use, or to improve the efficiency of vehicles being driven around Austin, as well as through issues that emerge with the lack of easy modes of transportation for low-income and minority populations.
A group called the Save Our Springs Alliance represents a major source of organizational action in the sustainability agenda for Austin. S.O.S initially represented a group of citizens struggling to help preserve environmental aspects of the 4,000-acre development proposal for the Barton Creek Watershed.
A night-long meeting was held with Austin City Council members in June 1990, where the planned development was unanimously rejected by the council. 
With the establishment of the Save Our Springs Alliance in 1992, S.O.S advocated aggressively for the Save Our Springs Ordinance to become law in the city. The S.O.S. Ordinance ensures that the quality of drinking and potable water for Austin isn't affected by the water coming from development areas.
The water running off development areas eventually mixes into the Barton Springs Watershed. Around 30,000 supporting signatures were received in favor of this ordinance. Because of the rigorous efforts of the S.O.S. eventually, the ordinance was approved by Austin voters in August 1992. S.O.S. quickly became a popular, mainstream, relevant organization.
The scope of S.O.S. has been expanded, as its profile now includes creating awareness and alliances across Austin. The S.O.S. Alliance officially became a non-profit organization in 1997. This organization now works regularly with local conservation groups to promote the need to protect Barton Springs and Edward's Aquifer.
Due to the efforts of S.O.S, Barton Creek and Barton Springs are now recognized as key sources of success in advocacy for environmental sustainability causes to Austin residents.
---
---