Oslo is leading the world in EV adoption, and other sustainability measures
---
---
---
Oslo, Norway - Climate Leader
Oslo, Norway has an ambitious goal of a reduction of greenhouse gas emissions (GHGs) of over 95% by 2030 (compared to 1990 levels).
The target year that the Norwegian parliament has set for the country to reach carbon neutrality is 2030.
Norway produces the most renewable electricity of any country in Europe, with help from a vast supply of hydroelectricity. Oslo is leading Norway in many sustainability metrics, on Norway's path to becoming a carbon-neutral nation.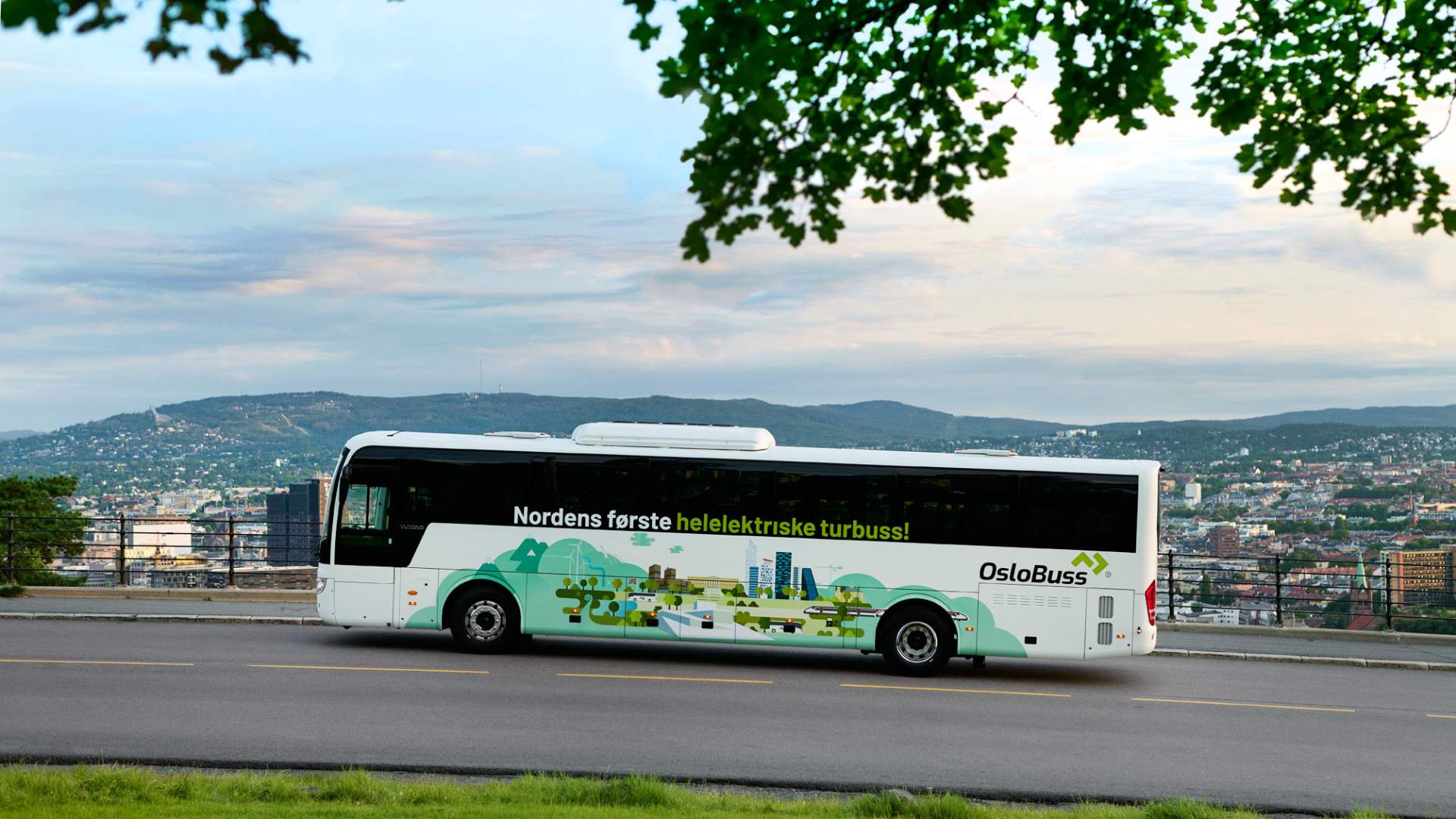 Oslo has fleets of sustainable mass public transit - trams, electric and alternative-fueled buses - that run directly on renewables (biogas) or are electric-hybrids.
The share of electric buses in Oslo's bus fleets is climbing. Oslo expects all public transit to be emissions-free by 2028.
Reducing the carbon footprint of Oslo's roads by transitioning to vehicles with low or zero emissions will accelerate Oslo's mission to get to net zero.
---
Oslo - EV Capital
Electric vehicle (EV) adoption is a primary indicator of any country's or city's success in reaching carbon neutrality goals, and Oslo is certainly a global leader from that standpoint. The majority of new car sales in Oslo are 100% EVs, plug-in EVs, or hybrids. 
Oslo leads the world in EV adoption.
In Norway, EVs reached over a 90% share of new car sales, including plug-in hybrids in addition to fully electric vehicles.
Norway is the first country in the world where the majority of new car sales are EVs.
As in the country of Norway as a whole, most new car sales in the capital city of Oslo are EVs.
The capital city of Oslo is leading Norway down the green path to a net zero carbon future. Oslo has the most EVs per capita of any city globally.
Norway plans to only allow zero-emission new cars to be registered in the country (starting in 2025, at the soonest).
The old stock of fossil-fueled internal combustion engine (ICE) vehicles are being phased out in Oslo. Non-EVs account for a relatively small fraction of new vehicle sales in Norway today, as ICE vehicles become less and less popular.
It must be emphasized that the number of EVs, hybrids, and alternative fuel vehicles in Oslo is the highest in the world per capita.
There are now more light-duty electric cars on Oslo's roads than light-duty ICE cars, as ICE cars are gradually replaced by EVs (and with plug-in hybrids included, the number of non-ICE cars in Oslo is even higher).
The popularity of electric vehicles in Norway is growing at a quick rate (see chart with the share of EVs for new vehicle registrations in April 2023).
Over the last few years, Norway has been the only country in the world where all-electric vehicles have regularly topped the monthly rankings for new car sales.
The following is a snippet from Green Car Reports on a few of the incentives Norway has for EVs; highlighting the disincentives the country has for ICE vehicles, as well as the for EVs-
"Per capita, Norway has more electric car owners and drivers than anywhere else in the world.

But why?

Widespread incentives play a part, as do steep taxes on gas and diesel vehicles—and the fuels themselves...

Norway makes gas- and diesel-powered cars far more expensive than they are in other countries. Taxation on gas and diesel vehicles turns into incentives for electric vehicles, whether powered via batteries or fuel cells [because by owning and driving an EV, these levies are avoided].

Collectively these zero-emission vehicles (ZEV) have no value-added tax, which is 25% on gas and diesel vehicles. There is no registration tax on used car sales, no annual ownership tax, and no fuel tax.

Road tolls are fully or partially exempt, ferry fares are strongly reduced, bus lanes are mostly open to ZEVs, public parking fees are tossed for ZEVs and there is plenty of free charging for EVs."  [quote from  -  greencarreports.com/why-norway-leads-the-world-in-electric-vehicle-adoption]
---
The share of EVs on the road in Norway is only continuing to climb. As of 2023, Norway has far more EVs on the road than any other country (per capita).
---
In 2015, the Oslo city council announced its intention to make the Oslo city center a completely car-free zone by 2019 (a dream that got stalled by politics).
The Oslo car-free zone is part of a proposed, and still potential, country-wide ban in Norway of low-efficiency fossil fuel vehicles.
If it does happen, it will be the first permanent car-free zone in a major European city and the largest of its kind.
For now, cars are still to be found on the streets of Oslo, as a complete car ban in the city has yet to be mandated.
However, Oslo is still implementing some of the sustainability measures that were to go hand-in-hand with the car ban; such as increasing the number of and widening bike lanes, mandating pedestrian and cycle-only zones around markets and green spaces, and developing 'pocket parks' around sidewalks and bike lanes.  [For more information on this topic, see - bloomberg.com/oslo-bans-cars-builds-a-bike-lane-haven]
Some local businesses in Oslo, as well as some residents of Oslo and the rest of Norway, protested the proposed citywide car ban and managed to change the political will for the ban, in order to stop it for now.
A bit of the story of how the Oslo car ban was stopped is seen in this excerpt from an article in Fast Company-
"Oslo first pedestrianized some streets in the city center in the 1970s, and invested heavily in public transportation in the 1980s. In 2015, when a progressive political coalition came to power in the city council, they started planning a more significant transformation. At first, they called for a full ban on cars because the majority of residents in the city center didn't drive.

But when business owners objected, worried that they'd lose customers and have problems with deliveries, the government changed focus to remove parking spots– a slightly more gradual approach. For now, there are still parking garages on the periphery of the city center."  [quote from  -  fastcompany.com/what-happened-when-oslo-decided-to-make-its-downtown-basically-car-free]
Oslo is doing the best it can to make transit in the city as sustainable as possible. The 'carrot' in this scenario is the boost to public mass transit, and an additional 40 miles of bicycle lanes.
The 'stick', however, is new tax levies on heavy vehicles registered before 2014 and increased tax on passenger cars.
The city of Oslo has begun to remove parking spaces instead of a full-out car ban for now and is divesting from fossil fuel investments from city pension funds.
For more information on the planned ICE car ban in Oslo city center please see newsinenglish.no/oslo-can-ban-fossil-fueled-cars [NOTE: the proposed ICE car ban in the Oslo city center has been pushed back by a few years compared to the original 2019 goal].
---
EVs in Norway
EVs are taking over the new car sale marketplace in Norway. With plug-in electric hybrids included, EVs have regularly accounted for over 90% of monthly new car sales in Norway.
"The [EV] sales numbers push Norway closer to meeting its national goal of transitioning to an entirely zero-emission fleet of new cars by 2025 — an initiative the government backs with lucrative tax incentives."  [quote from  -  NPR.org - 9 in 10 cars now being sold in Norway are electric or hybrid]
This market trend of EVs becoming the majority of new Norwegian car sales continues to grow today, and this trend is more the case in the country of Norway than in any other country in the world.
Looking at the wider picture, Norway plans to only allow zero-emission new cars to be registered in the country.
The Norwegian government already offers aggressive incentives for drivers to buy electric cars; including eliminating sales tax nationally for the purchase of some EVs, developing free parking spaces for EVs in major cities like Oslo, as well as building free parking garages for EVs with charging stations in Oslo.
Norway incentivizes EV adoption in various ways in order to encourage the country-wide transition from ICE vehicles to EVs, as seen in the below articles:
"The Norwegian [EV] success story is first and foremost due to a substantial package of incentives developed to promote zero-emission vehicles into the market.
The incentives have been gradually introduced by different governments and broad coalitions of parties since the early 1990s to speed up the transition. The Norwegian Parliament has decided on a national goal that all new cars sold by 2025 should be zero-emission."  [quote from  -  elbil.no/norwegian-ev-policy]
"Norway has long been hailed as a leader in the race to adopt electric cars, and it provides many incentives and benefits – including big reductions in purchase and road tax – for those who buy and drive them. Electric cars also enjoy cuts of at least 50% to parking, toll road, and ferry charges."  [quote from  -  weforum.org/norway-electric-cars-majority-sales]
---
Low Emission Zones in Oslo
There is already a congestion charge for entering Oslo city center by car during the daytime weekdays. Oslo's congestion levy mirrors London's congestion levy for cars entering the London city center; both effectively create low-emission zones.
Besides Oslo city center, another pioneering low emissions zone in Europe is in London. The London congestion charge, and the Ultra-Low Emissions Zone (ULEZ) in London, like Crit'Air throughout France, are designed to help reduce emissions and other pollution from inefficient fossil fuel cars.
Low-emission zones are also designed to get lower-emitting, more fuel-efficient vehicles (like electric vehicles, hybrids, and plug-in hybrids) on the road in place of their dirtier-fueled counterparts. 
A smaller municipality that has set a sustainable example by greatly reducing vehicles on its roads is the city district of Vauban in Freiburg, Germany. Vauban has effectively reduced the number of cars on its roads dramatically.
Even Manhattan, NY, is mandating a congestion charge similar to the one in London.
---
The rest of Europe is watching
It's easy to see the attractions of a car-free zone. Apart from improvements in air quality for the city, and reductions in pollution, newly emptied roads can be rededicated as bike lanes, sidewalks, cafes, and public parks.
After all, a car is one of the most inefficient ways to get around a city. Sustainable mass transit, like light rail and electric-biofuel hybrid buses, and biking and/ or walking, are much more sustainable options for public transit than automobiles. 
Other European cities, like Copenhagen, Paris, Brussels, and Madrid, are watching Oslo closely.
If successful, then the proposed car-free zone in Oslo could provide the blueprint for other cities to follow suit, making city centers a better place for everyone.
---
Oslo - Low-Carbon Capital
A majority of electricity on the grid in Norway is from hydropower - but energy overall in Norway is also sourced from biomass, geothermal, solar, and wind energy (along with a share of fossil fuels).
Oslo sources a share of renewable energy (RE) for public mass transit (such as biofuel in their mass transit fleets). Oslo also uses a share of RE sources to provide electricity for every other sector of the city's economy as well (including for electric mass public transit).
Oslo's use of energy sources such as hydroelectricity and biomass illustrates how the city makes good use of locally sourced RE from the city's plentiful lakes, rivers, forests, and agricultural lands.
Oslo engages in innovative RE strategies such as using food waste and other waste-to-energy (W2E) streams to power some city buses (after converting the waste into a usable biofuel form - liquid biomethane).
Oslo's goal is to run the city's public transit solely on electricity or RE sources (Oslo aims for all public transit to be zero emissions).

For heating buildings within the city, Oslo primarily relies on district heating from municipal waste incinerators and biomass-fed cogeneration plants (also known as combined heat & power, or CHP, plants).
Biomass-fueled boilers, such as those operated in CHP power plants owned by Fortum Oslo Verme, heat many of the city's homes and buildings, in addition to supplying Oslo with a renewable source of electricity. 
---
Europe's eco-capital
Oslo, Norway was Europe's Green Capital in 2019 - [for more information on this, please see dw.com/oslo-starts-2019-as-europes-eco-capital]. Some highlights from DW, about why Oslo is Europe's eco-capital, and the importance of world cities maintaining a low carbon footprint-
"The award [Europe's eco-capital award] honors high environmental standards, sustainable urban development and green job creation.

Indicators for being a green city include local transport, biodiversity, air quality, waste management, and noise [reduction]. Oslo, with its 660,000 inhabitants, is green not only due to its low carbon footprint of 1.9 tons per capita per year, Katja Rosenbohm tells DW.

As head of communication at the European Environment Agency in Copenhagen, Rosenbohm was part of the jury that awarded Oslo its new title. "They have very ambitious targets, for example of having a car-free city by 2050." Rosenbohm also praises Oslo's "front-running activities in electro-mobility."  [quote from  -  dw.com/en/oslo-is-europes-green-capital-2019-finally]
---
---
Also see:
London; London's congestion charge and ULEZ
---
---
---
---
---